Aaron resources at Emory's Rose Library reveal his character in experience of issues | Emory University
2 min read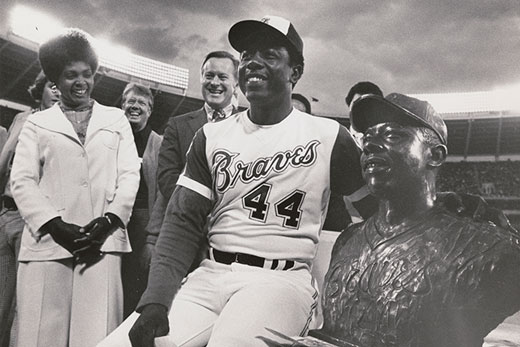 Emory University's  Stuart A. Rose Manuscript, Archives and Uncommon Guide Library includes numerous components that doc the lifestyle and occupation of Henry Louis "Hank" Aaron Jr., the revolutionary baseball star, civil rights activist and beloved Atlanta neighborhood leader who died Jan. 22.
Aaron received an honorary health practitioner of laws degree from Emory in 1995. Master more below.
Components linked to Aaron are highlighted in various collections, like the Clyde Partin papers, the Ron Sherman photograph assortment, and the Richard Cecil assortment.
Partin was Emory's athletic director and a sporting activities historian. The objects in his collection about Aaron consist of study substance and memorabilia that Partin collected, together with clippings, posters, and signed baseballs. 
Atlanta-primarily based photographer Sherman was at Fulton County Stadium on April 8, 1974 when Aaron broke Babe Ruth's dwelling operate record and took iconic photographs of that game.
Cecil worked for the Braves and his assortment features products about the commencing of Aaron's occupation with the Braves this kind of as scouting stories that evaluate Aaron's opportunity, correspondence amongst the Boston Braves and  Aaron's staff in the Negro Leagues, the Indianapolis Clowns, and a copy of his very first Important League contract. The selection also consists of the letters the Braves obtained when "Hammerin' Hank" was about to crack Babe Ruth's dwelling operate document, a great deal of it racist despise mail that threatened Aaron if he broke the file.
"These components give a intriguing glimpse of the starting of Aaron's profession and the character that built him the home run king," suggests Randy Gue, assistant director of selection progress and curator of Political, Cultural, and Social Movements collections at the Rose Library. The products had been processed by Rose archivists including Sarah Quigley and Meaghan O'Riordan.
In 2014, the resources, and the story they expose about Aaron's character, encouraged three university student-athletes and users of Emory's baseball group — Kyle Arbuckle, Warren Kember and Brett Lake – to co-curate an exhibit, "He Had a Hammer: The Legacy of Hank Aaron in Baseball and American Society," at the invitation of the late Pellom McDaniels III, curator of the Rose Library African American collections, and Dana White, Emory professor emeritus of American Experiments and Rose Library senior faculty curator at the time.