Home surveillance system captures blind man falling in construction site hole
2 min read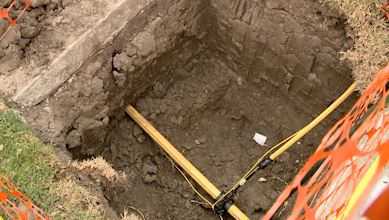 Video captured on a home surveillance system shows a blind man falling into a deep hole on a Gretna sidewalk.Joseph Lalley witnessed the incident and told WDSU that it happened last Saturday afternoon on Madison Street."It just happened that quick," Lalley said. "My wife and I both watched him walk straight into the hole. Nonstop. No warning."Lalley reached out to Atmos Entery, the company overseeing the work. He said someone came out to the site and put up more mesh and stakes to block off the hole in the sidewalk."It just needed to be addressed," Lalley said.WDSU reached out to Atmos for comment but has not heard back yet.Gretna Mayor Belinda Constant told WDSU that she has also reached out to the company and said she will take a personal interest in addressing the safety concerns of residents.Meantime, Frederick Allen, the man who fell in the hole, said he is sore but doing OK."My worst fear was (that nobody would) see me, but I'm thankful that my neighbors down there, they saw me," Allen said. "Just be mindful of construction and other things around you."
NEW ORLEANS —
Video captured on a home surveillance system shows a blind man falling into a deep hole on a Gretna sidewalk.
Joseph Lalley witnessed the incident and told WDSU that it happened last Saturday afternoon on Madison Street.
"It just happened that quick," Lalley said. "My wife and I both watched him walk straight into the hole. Nonstop. No warning."
Lalley reached out to Atmos Entery, the company overseeing the work. He said someone came out to the site and put up more mesh and stakes to block off the hole in the sidewalk.
"It just needed to be addressed," Lalley said.
WDSU reached out to Atmos for comment but has not heard back yet.
Gretna Mayor Belinda Constant told WDSU that she has also reached out to the company and said she will take a personal interest in addressing the safety concerns of residents.
Meantime, Frederick Allen, the man who fell in the hole, said he is sore but doing OK.
"My worst fear was (that nobody would) see me, but I'm thankful that my neighbors down there, they saw me," Allen said. "Just be mindful of construction and other things around you."