The COVID-19 pandemic—and its associated economic effects—has upended much of the conventional wisdom around determining where, and how, families want to live.
The advent of working from home has led to an exodus from "gateway" markets, as many folks who no longer need to commute seek out larger, cheaper options in the suburbs and exurbs. While not everyone is making the leap, the promise of strong job growth, lower costs of living, and lower-density environments have pushed a few markets into the single-family housing spotlight.
Working with Zonda chief economist Ali Wolf, BUILDER has selected five single-family markets—all of which appear on our latest Local Leaders list of the top 50 new-home markets ranked by closings—with demand fundamentals, economic conditions, and job activity worth watching in 2021.
Dallas
Dallas-Fort Worth, No. 1, consistently ranks at the top of our annual list, and the pandemic has not slowed its roll.
Despite the initial slowdown in new-home sales, many Dallas builders and regional divisions were on track to close out their "best year yet," according to Bryan Glasshagel, senior vice president at Zonda Advisory. "We didn't have the typical spring surge in terms of active [existing home] listings coming to the market," he says. "So with that, buyers started to pivot to the new-home market, looking at inventory homes or even build jobs, and you really saw the new-home market grab some market share."
Home prices have appreciated 6.5% to 7% from April to October. Inventory remains low on both the existing and new-home front, with less than two months of spec homes available and little opportunity to replenish the pipeline. Glasshagel notes many builders are concerned about supply, though their confidence often hinges on whether they have the lot supply to support future demand. "I think some builders might be struggling [this] year to keep their start activity flat," he says.
Jacksonville
Jacksonville, No. 19, has rebounded under a strong wave of in-migration and home sales in 2020. The market's new-home sales index is up 68%, according to Zonda, and its MLS listings have fallen to two months of new-home supply, down from an equilibrium of five to six months.
David Cobb, Zonda division president for Jacksonville, Naples, and Sarasota-Bradenton in Florida, attributes the area's strong performance to its status as a "jobs market," unlike other nearby Florida markets that draw the majority of their home sales from vacation or retirement buyers. The city is located near three naval bases, plus a major commercial port. A number of large health and financial companies are either headquartered or maintain a strong base in the area, and the city offers significant tax incentives to attract businesses.
Cobb also notes the city has a lot of room to grow. "There's plenty of land. Unlike other parts of Florida, especially farther south, you have the ability to grow the city and area," he says.
Phoenix
The Phoenix market, No. 4, was strong when COVID-19 hit and only grew stronger over the summer as in-migration surged.
"There are a lot more buyers coming from California and Washington state," says Jim Belfiore, whose Phoenix-based firm, Belfiore Real Estate Consulting, recently became a part of Zonda, BUILDER's parent company. "A lot of them were from the tech industry, and they were migrating into a more permanent house here because they felt they were going to be able to continue working remotely rather than going into an office in the Bay Area or Seattle."
The Phoenix market recorded its most active sales contract period during the 30-day period from July 16 to Aug. 15. "[It is probably] a unique phenomenon to this year," says Belfiore, who notes the area's hot and humid weather usually deters buyers over the summer. Since then, demand is down 8%. "I would expect it to remain elevated, although probably a lot of that tech migration is over now."
Home supply is constrained, both on the resale and the new-home markets. According to Belfiore, around 40% of the market's home buyers do not have homes to sell. Maricopa, Coolidge, Casa Grande, and Buckeye are among the suburbs seeing booming home sales for the first time in over a decade.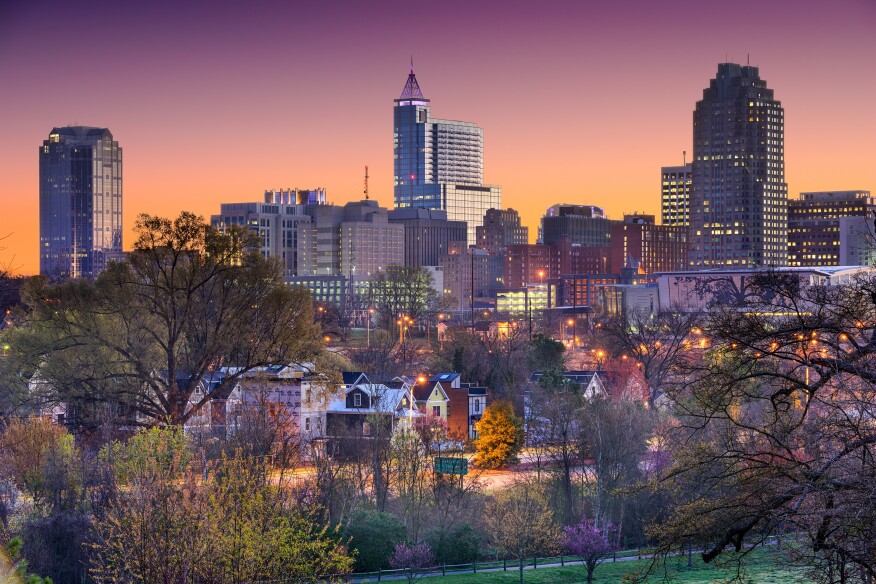 Raleigh
Raleigh, North Carolina, No. 14, was buoyed last year by local buyers looking for more space, new residents relocating from more expensive markets, and an ongoing flow of "baby chasers" retiring near their children and grandchildren.
"Our availability of quick new move-in homes was mostly depleted by August and September. That, along with a shortage in the resale market, the focus for builders has turned to managing a pipeline of contracts and presales that will carry many of our new-home communities deep into their 2021 sales goals," says Amanda Hoyle, Zonda regional director for the Raleigh-Durham region.
The Raleigh land market, already undersupplied in vacant developed lots, has evolved into what Hoyle calls a just-in-time delivery model.
"Every builder I know is scrambling to find more developed lot and land opportunities for fear that they'll sell out of most of what they had budgeted for 2021 and 2022 and have little left over to grow their business in 2023 and beyond," says Hoyle.
Salt Lake City
Salt Lake City, No. 36, has grown by leaps and bounds since March. "New-home starts have increased 10% compared with this time last year, up 42% compared with five years ago," says Eric Allen, Zonda regional director for Boise and Salt Lake City. "There's a large number of people moving into the Greater Salt Lake market from out of state for jobs, quality of life, etc., which has really propelled the growth of our single-family market."
The median price of a new single-family home has risen to $417,600, up 3.6% from one year ago, and up 23% from five years ago. At the same time, the supply of new single-family homes is down to a record low, according to Allen. The market currently has a 20-month supply of lots on the ground, near the undersupplied end of equilibrium. "Nearly 50% of our lot inventory is for homes priced above $600,000, therefore the need for lots in our more affordable price ranges is high," Allen says.