Since Russia invaded Ukraine in late February, the destruction of civilian areas has become a hallmark of its war, forcing millions of Ukrainians to flee from the bloodshed and carnage. Many may never return to their homes.
Around 11.5 million Ukrainians have already been displaced, according to United Nations figures. Of those, 7.1 million remain inside Ukraine and 4.5 million have crossed into bordering nations.
Moscow's "thunder run" attempt to end the war in a matter of days failed spectacularly. Both sides are now settling in for a protracted conflict.
Russian bombardments have already devastated many residential areas. Some cities, such as Mariupol in the southeast and some northern suburbs of Kyiv, are uninhabitable, and more will be destroyed before the fighting ends.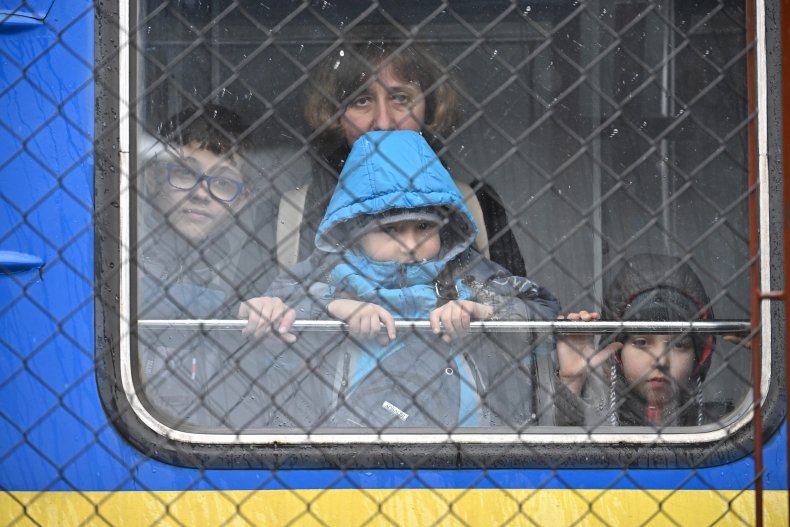 Ukraine's Foreign Minister Dmytro Kuleba warned that the next phase of fighting in the eastern Donbas region will be reminiscent of the Second World War.
Karolina Billing, the United Nations High Commissioner for Refugees representative in Ukraine, told Newsweek from Kyiv that 75 percent of settlements in the worst-hit areas in Donetsk, Luhansk, Kharkiv, and Zaporizhia oblasts have reported damage to housing.
"That's really very, very high," Billing said. "Just seeing the level of destruction, it's clear that this is going to be one of the main impediments to people's ability to return."
Ukraine and its international backers were already struggling to properly support those displaced by eight years of fighting in Donbas. "That was at a much smaller scale than this," Billing said. "What we really need to realize is that aid is going to be needed for years and decades."
Billing said she did not wish to speculate on the long-term figures, though noted that the majority of those who fled the fighting in the east in 2014 to 2015 "have basically given up on returning."
She warned: "Given how it looks in these places in the east, it's very difficult to predict the future there."
Poland, Ukraine's western neighbor, is hosting more Ukrainian refugees than any other country. Some 2.6 million have arrived since February 24. Officials in Poland's major cities are preparing for a long stay for many of the new arrivals.
A spokesperson from the Krakow government told Newsweek there could be as many as 150,000 Ukrainian refugees in the southern Polish city, close to the border with Czechia, Slovakia, and Ukraine.
The city's pre-war population was around 766,000 people, a significant number of which had ties with Ukraine just 135 miles away.
"Most of them came to their families and friends living or working in Krakow already. For those who didn't have a shelter, the city prepared accommodation," the official said.
City authorities do not know how many will stay long-term, though the spokesperson acknowledged it could be "most of them." Many new arrivals, they said, gravitate to larger cities that are more familiar and offer better employment opportunities.
The southwestern city of Przemysl is even closer to the Ukraine border, less than 15 miles or a 30-minute drive.
This has made it a key transit point for those fleeing the Russian offensive, though the city's relatively small size—its pre-war population was around 60,000—means most do not stay.
"About 800,000 Ukrainian citizens have passed through Przemysl since the beginning of the war in Ukraine," Mayor Wojciech Bakun told Newsweek.
"From the very beginning, the city of Przemyśl has been a transit destination, where most of those fleeing Ukraine stay only for a few days, and then travel to further parts of Poland and the European Union.
"We think that most of the 2,000 to 2,500 people who stayed in Przemyśl for a longer period of time plan to stay."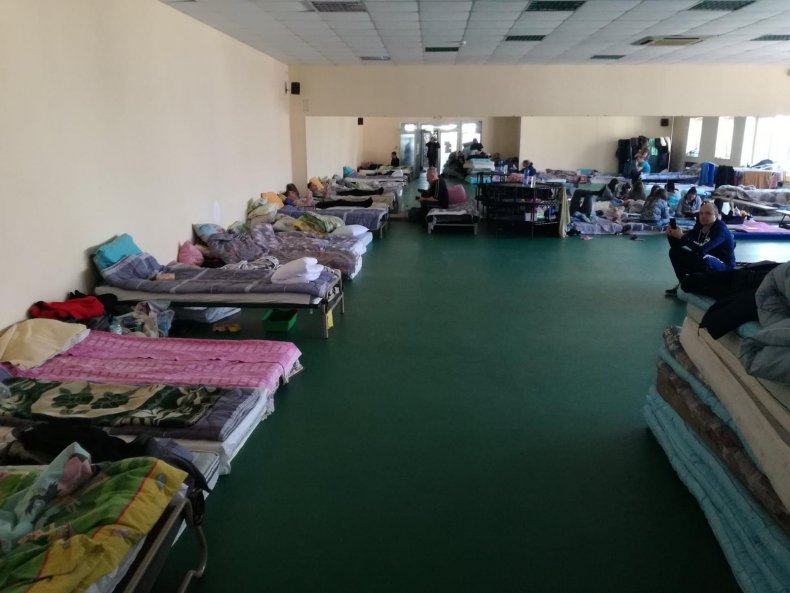 Bakun said the city is well prepared to host such numbers for the foreseeable future. Assistance from the national government, EU, and NGOs means the city has everything needed to support the Ukrainians: "The greatest challenge is to smoothly prepare the citizens of Ukraine to function in Polish conditions."
Integration is also a top priority for authorities in the eastern city of Lublin, home to around 340,000 people and 50 miles from the border with Ukraine. Some 30,000 Ukrainian refugees are now living in Lublin, Mayor Krzysztof Zuk told Newsweek.
"Actions are needed that will integrate Ukrainians who have found refuge in Lublin into the life of the city in a natural and smooth way," Zuk said. "Respecting the culture and diversity of those who have found refuge in Lublin, we want them to become an important element of Lublin's community, engaging in city's life."
Those still in the city are expected to stay. "Those who stay here have consciously made this decision themselves," Zuk said.
"Some have nowhere else to go so they stay in Lublin, where they finally feel safe. Others want to be as close to the border as possible, so that they can return home once the situation calms down.
"Moreover, others refuse to go any further because of this symbolic closeness to their husbands, fathers and sons. After all, they have stayed on the other side of the border to fight for Ukraine's freedom."
"We need to be aware that even if the war ends soon, many refugees will have nowhere to return to," Zuk added. "Their homes have been destroyed. The towns they lived in have been razed to the ground by the Russians.
"We have to think about refugees in terms of long-term assistance. It's as simple as that."
Indeed, an end to the fighting may swell Ukrainian numbers abroad further. The Ukrainian government banned all men between the ages of 18 and 60 from leaving the country, lest they be needed to fight the Russians.
Thousands of men and women heeded the call and returned to Ukraine, abandoning their jobs, their studies, and their lives in other countries.
"Women staying in Lublin will be eventually joined by men, currently fighting at the frontline," Zuk said. "We expect the number of Ukrainians living in Lublin to increase by another 10-20,000 people post-war.
"So, with time, we are talking about a total of about 40-50,000 new inhabitants of our city. We expect that many of these people will not be able to return to their homes for a long time, due to the havoc and destruction the war has caused.
"Depending on the war's duration, some people may become part of the city's bloodstream as a natural process. Having a job or attending school in Lublin will make the decision to return to a destroyed Ukraine even more difficult."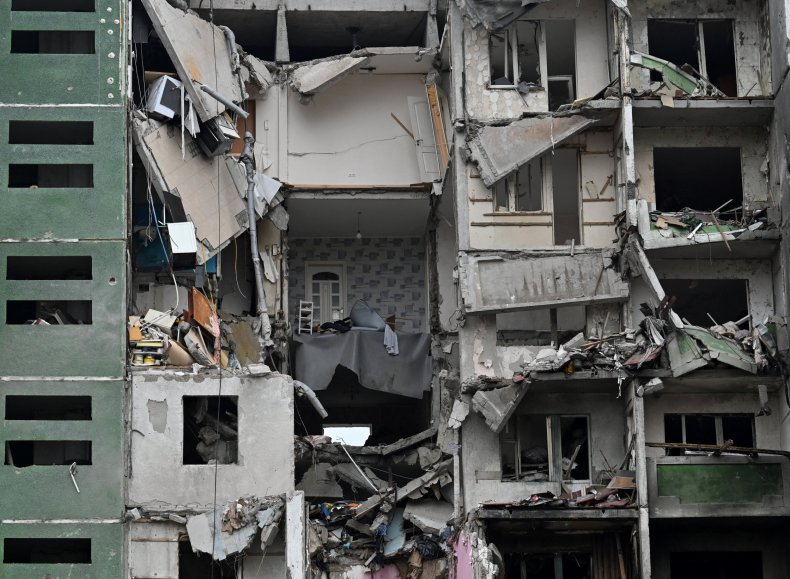 A poll published by the Ukrainian Razumkov Center think tank last week found that 79 percent of refugees surveyed plan to return to Ukraine after the war. Ten percent plan to stay abroad.
But some will have nothing to go back to. It is not possible to accurately track the level of damage done to residential areas, but the scale of devastation could prove the most severe seen in Europe since the Second World War.
Valeriya Fadeeva is one of Ukraine's double internally displaced persons (IDPs). Fadeeva left Donetsk in 2014 to study in Poland and was unable to return after Russian-backed separatist militants seized the city and surrounding areas.
Fadeeva eventually relocated to Kyiv, but was forced west again by Russia's invasion. She was among those who packed onto trains leaving the capital in the first weeks of the war. Fadeeva stood for all 11 hours of her journey to Lviv, near the Polish border, as Russian troops closed in on the capital and missiles shook the city.
"In Kyiv, I went to sleep in my clothes and with my bag, with my laptop," she told Newsweek. "And when there were sirens, I went to a hiding place. I couldn't imagine that I could go to sleep in pajamas. For two weeks in Lviv I slept in my clothes, with my laptop."
Now Fadeeva is among the volunteers at the I Am Not Alone foundation based in Lviv, supporting the growing number of IDPs across the country. In Lviv alone, there are some 200,000 IDPs that have registered with the government to access assistance. The real number is almost certainly much higher.
"Lots of people wait for good news," Fadeeva said of Ukrainians forced to flee. "Good news is about the war ending."
But the reality for many is grim. "People from Dnipro or people from Poltava understand that everything is OK with their houses, and maybe they will go back," Fadeeva said. "People from Mariupol have to live somewhere else…I don't know where they would go back to."
Serhiy Kiral, a deputy mayor in Lviv, told Newsweek that around 50,000 people are expected to stay in the city even when the fighting is over. "We have a project for IDP housing, and are talking to the government and donors about financing," Kiral said.
Housing so many displaced people will require collaboration between the Ukrainian government, NGOs, private companies, and international aid organizations.
President Volodmymr Zelensky said at the end of March that local governments had been ordered to build temporary housing, a prelude to a "large-scale reconstruction of our state" once the fighting has ended.
Ukraine's experience with the Donbas conflict shows this is easier said than done. "There will need to be a range of different options available for people really to be able to feel that they can stay until it is safe for them to return or their former home is reconstructed," Billing said. "There is no one-size fits all, there are so many people needing a home."
In Lviv, Fadeeva and her foundation colleagues are looking to villages and towns depopulated in recent decades by people heading west towards the EU for work. I Am Not Alone is creating a database it hopes will help house displaced people and businesses in such settlements.
"First you have to understand that you are in a safe place. But tomorrow, you have to earn money, because you have to feed yourself and your family," Fadeeva said. "We would like to provide people with normal guarantees and a good sustainable system for tomorrow, for the future."
The organization is even hoping to claim some of the debris created by the fighting, and use that to rebuild. "We would like to use these materials and build new cities, new infrastructure," Fadeeva said.
However the war ends, Ukrainians are facing many years of economic difficulty. Ukraine's economy is expected to contract by almost half this year. If Russia seizes coastal land in the south, Ukraine's import and export capabilities will also be curtailed.
As businesses and industries fail, displaced people's ties to their former homes will weaken. "I hope that I will go back to my house," Fadeeva said. "But I understand that the economy in Ukraine is the total opposite of what it used to be before the war."
Still, Fadeeva said, many displaced people are still hopeful, especially the older generation. "A lot of people even now can't believe the reality," she said.
"They read news because they are waiting for good news. I don't read the news. I'm young, I live in the future a little bit. My parents twice lost their houses and their businesses…They are not young people, they don't want to fight.
"There are still a lot of people who would like to go back. They invested their money, their lives, their souls, in their businesses and their homes."