Below is a real Dear Laurel letter from a kind reader regarding her recent kitchen remodel.
Dear Laurel, 

I want to thank you for your blog over the years and the heaps of help it was during my kitchen remodel last year. 

Please know that your efforts do not go unappreciated. If you're interested, I'd love to send some before and after photos which I think you'll enjoy.
I want you to see what your blog and talent have helped create. Unwittingly, you were involved in every decision made in the kitchen remodel. 


I do understand how busy things are, though, so no worries if you don't have time to look. Just know that you deserve some accolades!
Best Regards,
Rachel
***
Oh wow, Rachel, you are too kind. Thank you so much!  But, I've said this so many times, and it's this:
I've learned a TON in the last ten years writing the blog. In fact, I daresay I've learned more than in the previous 24 years going back to interior design school.
The point being is that I'm still learning. 


I just have to add this in because I'm sure some of you are wondering what the hell is going on with my renovation. It is still in the works; however, as with many things in life, it's two steps forward and a step backward. But, I have some exciting news.
I've enlisted the help of a friend and super-talented kitchen designer who's helping me with my kitchen remodel. 

Yes, long-distance. This is the bulk of her business right now. More about that later.
The impetus for having her help me is two-fold.
One, you don't know what you don't know, and I'd rather not make a whopping mistake that could've been prevented.
I've had two estimates for cabinetry, and I can't even talk about the INSANE numbers that came back. I mean insane even for where I'm located.
There has to be a better way for me, and after talking to my darling friend, she is confident that there is. She has just completed her drawing of the floorplan of my design with her fantastic software. Only, first, she made me remeasure everything down to the closest 1/4". That is a considerable challenge for me, right there.
Well, who is this brilliant kitchen designer, and don't you have a laser tape measure, Laurel?
I'm sorry, I can't say her name just yet because she is full-up with other kitchen remodel projects. However, I promise that before long, you will know everything and also see what she's doing and hear firsthand what it's like working with her long-distance. So far, it's a dream come true for me!
And no, I don't own a laser tape measure. And, please, no scolding. Thank you. ;]
***
Of course, I told Rachel to please send me the before and after images of her new kitchen remodel.
I'm always up for looking at a great kitchen renovation. But, before I go on. Many of you have sent me your stunning designs, and I could've easily published them as well, but I didn't. It was most likely a matter of timing, is all.
Rachel quickly sent me several images. I often get a little nervous at first because sometimes it's not clear what are the before pics and what are the after. But as soon as I saw the after shots, there was no question.
The first three images are from before the kitchen remodel via the real estate listing.
Rachel said:
Some quick background; after living with the kitchen for a while, I couldn't take it any longer. And so, one weekend, I began tearing down that horrid three-sided island one weekend.
Laurel said:
You go, girl. Tear that beast apart!
Even though I can't see the entire space, this just feels wrong to me.
Okay, now it's REALLY wrong!
I mean, who in freaks name puts their fridge FACING the living area. That would be fine if it was integrated with a panel on the front, but it is a big stainless steel focal point here. I'm also bugged by the cabinets not going all the way up, and I'm not crazy about the crown.
Back to Rachel:
Naturally, there was no firm design yet. It took me a year to come up with the final design. Subsequently, there was a year spent living with a sink in the laundry room. haha
Although I'm not a trained designer, I learned from your examples how to do a quarter-inch scale drawing and then meticulously sketched out different layouts. In addition, I researched products and started the kitchen remodel a year later, in January 2021.
The bulk of the work for the kitchen remodel took six months to be functional. And, ten months to be complete.
I went with form and function first, then did my best to make it beautiful and cost-conscious. The cabinet design is entirely my own, with some online help from the manufacturer regarding fillers, trim and build.
Thank you for making the "unkitchen" stylish and popular; I've always hated upper cabinets. Thank you again for all of your help. Enjoy!
Rachel went on to say: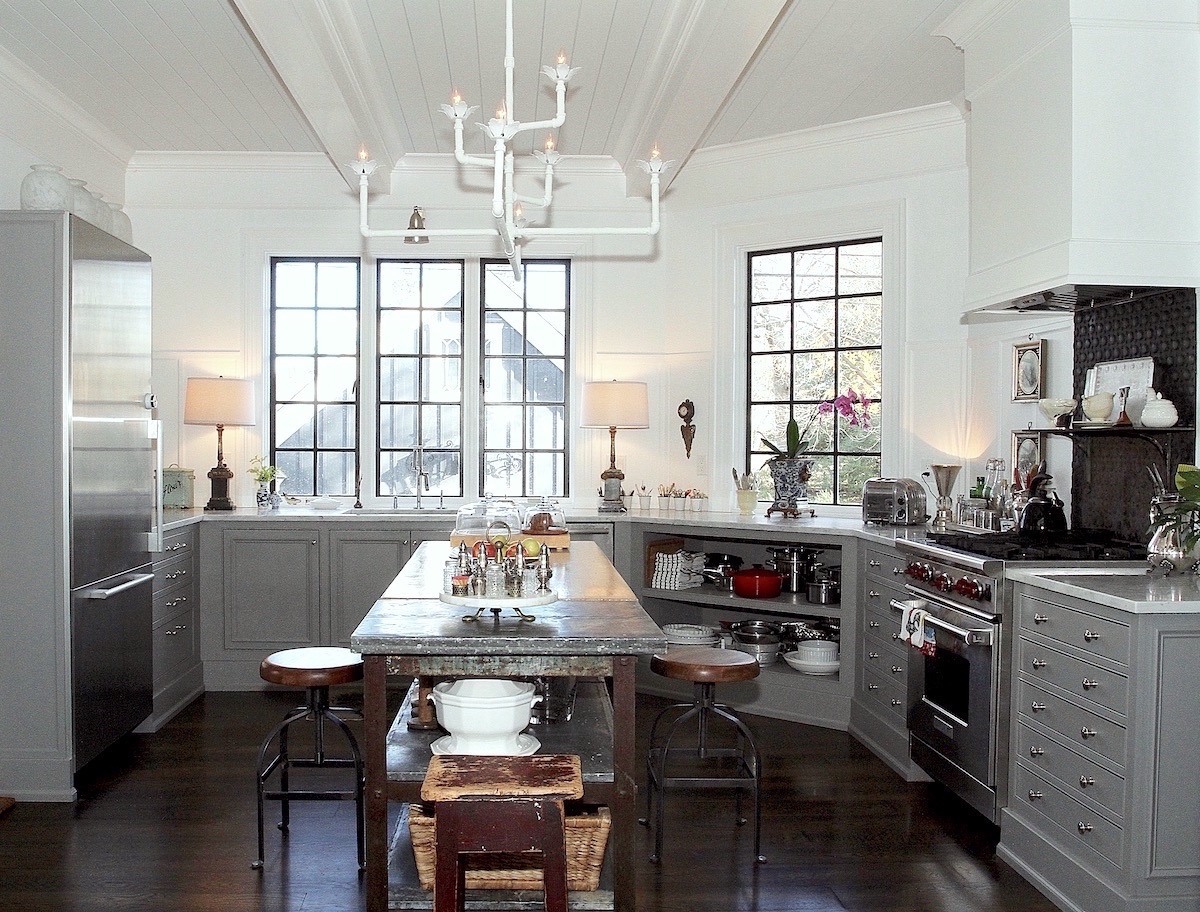 Actually, your post on Nancy Keyes' kitchen was a springboard for this project.
I sourced almost everything online and am happy to share that info. There's a reason for every decision made along the way based on my scales of beauty, functionality, and cost.
I did whatever I could myself (wallpaper, slipcovers, paint, drapes). Then, I sourced tradespeople for skilled jobs (some were great, others not so much).
I have no lasting regrets and am thrilled with it all!  It functions almost perfectly.
My favorite bits are the banquette breakfast table, the built-in china cabinet, the drop-zone, two rubbish drawers, cabinets to the ceiling, the ice-maker, the lighting, and yes, my one big splurge, the Ilve range.
As far as decor goes, it's never done. I'm still looking for the perfect drapery fabric to go along the entire back wall.
I'd love some art next to the range like Nancy has done and am constantly on the hunt for dishes, books, linens, and such to beautify (not clutter) the shelves.
I feel like I understood function, but you helped me understand beauty and how to achieve it! And your blog introduced me to many designers, artisans, and enthusiasts who also have beauty and ideas to share.  I can't thank you enough.
To friends and neighbors who love the kitchen, I refer them to you.  You've spent more hours with clients like me than you'll ever know.
Warm Regards,
Rachel
Wow again! But, what I love about Rachel's kitchen remodel is how she made it her own.
Below is a widget with all of the items I could find that can go in the widget. (The two floral pillows are not what Rachel did but two substitutes I found on Etsy.) Then, there is Rachel's complete shopping list interspersed with more images.
Cabinets and Hood – Cliqstudios Austin cabinet in Cloud White
Wallpaper – Rifle Paper Co. Laurel in green and white
Backsplash Tile – 2″x8″ white porcelain subway tiles
Accent Tile – Artisan Stone Tile by Stone Impressions, style Mulholland in Cypress on marble
Counter – Marble style/color New Super White from a local stone dealer
Pendants – Hudson Valley Lighting Painted No.2 16″ wide in white/brass
Sconces – Hudson Valley Lighting Garden City wall sconce 8322 in aged brass
Chandelier – Found at an antique store and rewired for ceiling use and covered shade myself
Bench – Ballard Designs 60″ Bristol in white canvas then made the green slipcover myself
Faucet – California Faucets Davoli Series in polished nickel with crystal handle (I love it)
Range – Ilve 40″ Nostalgie Series dual fuel in gloss black and brass
Fridge – Fhiaba brilliance series (planned for panel ready but found this flood model at half the price, so…)
We also have a nugget ice-maker (where the space is in the photo) and an under-counter drink fridge in the butler's pantry.
Hardware – Amerock traditional classics geometric glass knob in polished nickel and Amerock Granby cabinet pull in polished nickel (I reused these from my previous kitchen)
Floors – 4.5″ Red Oak finished in Bona Special Walnut stain.
Mudroom Wallpaper – Rifle Paper Co Juniper Forest in Evergreen
The table and chairs are from antique stores, counter stools are from Ballard (discontinued), and drapes I made.  The paint on the woodwork and doors (that isn't cabinetry) is Cotton Balls. (thank you 🙂
The online stores I used:
applianceconnection.com
build.com
Hudson Valley Lighting
Rifle Paper Company
Ballard Designs
Cliq Studios
The counters, tile, faucet, fridge, and furniture were from local dealers.
By the way, I love seeing your Boston posts as I lived there twice and worked at Boston Children's Hospital as a nurse years ago.
I'm so happy that you live in such a beautiful, historic place! I live in North Carolina now, and you're welcome anytime. You would love the Biltmore.
***
Thank you so much, Rachel! I think she did an awesome job on this kitchen remodel. It is full of charm, and classic details. In addition, I'm incredibly impressed by all of the work she did on her own. The box-pleated slipcover on the banquette is sublime!
In addition, Rachel:
Took her time with the design
Got professional help when it was needed
Saved money, by purchasing some things on sale
Did as much of the work herself, as she could.
Another thing I find immensely interesting is that Rachel was influenced by Nancy Keye's gray kitchen. However, I'm thinking of the kitchen that Nancy designed, and I shared on the blog last summer.
Below is one image from the post of Nancy's kitchen remodel.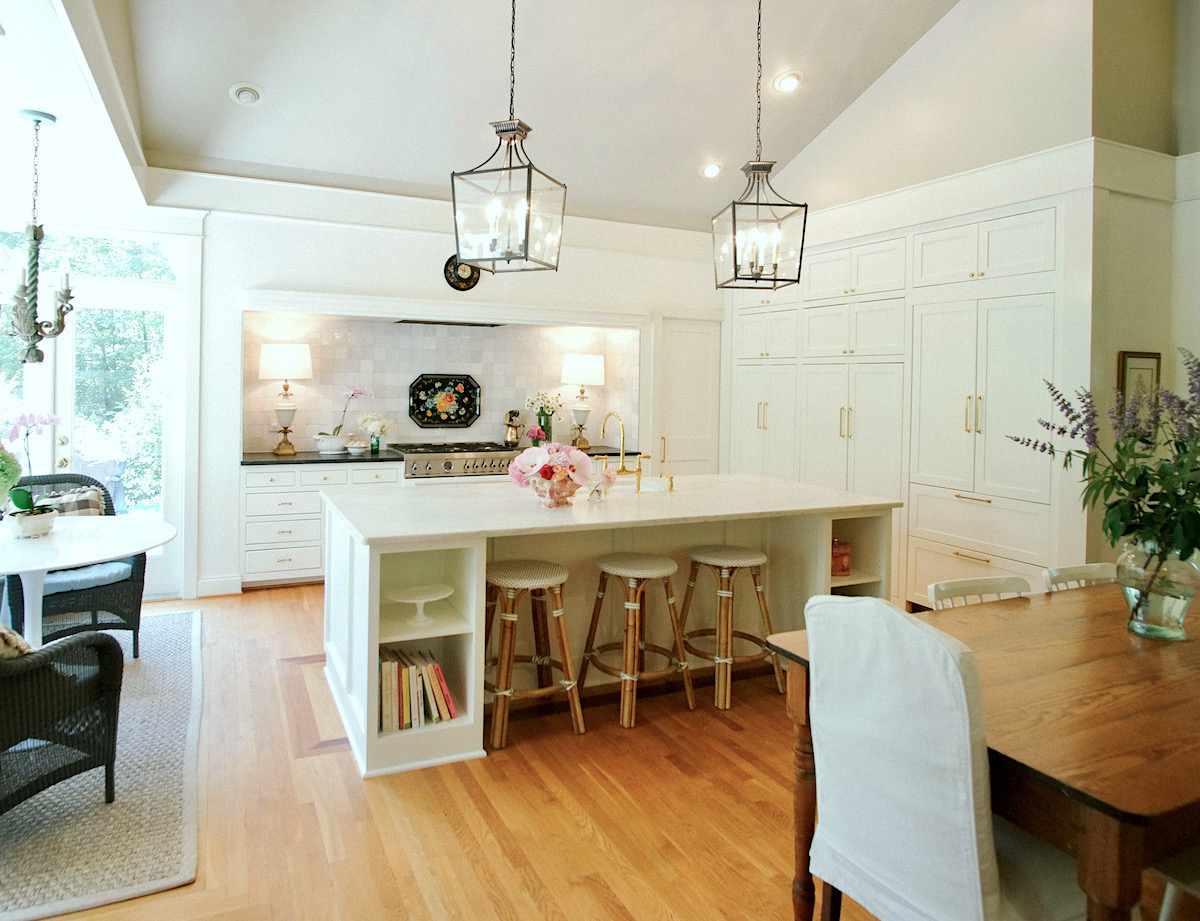 See what I mean? Rachel's kitchen reminds me of this lovely. But, here's the thing. Rachel did not see this kitchen until hers was nearly finished, as this post came out about one month AFTER Rachel's kitchen was functional. And, she had completed the kitchen design more than seven months earlier!
Now, I know you guys love to make comments.
Most of you are incredible and very kind. However, there are too often a couple of folks who start critiquing/finding fault, etc. Please don't do that.
Rachel is incredibly kind and generous to give us all of this excellent information from her recent kitchen remodel and a glimpse into her lovely, new space.
xo,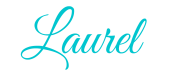 Please check out the newly updated HOT SALES! Also, please remember that the Serena & Lily sitewide sale is over at the end of the month.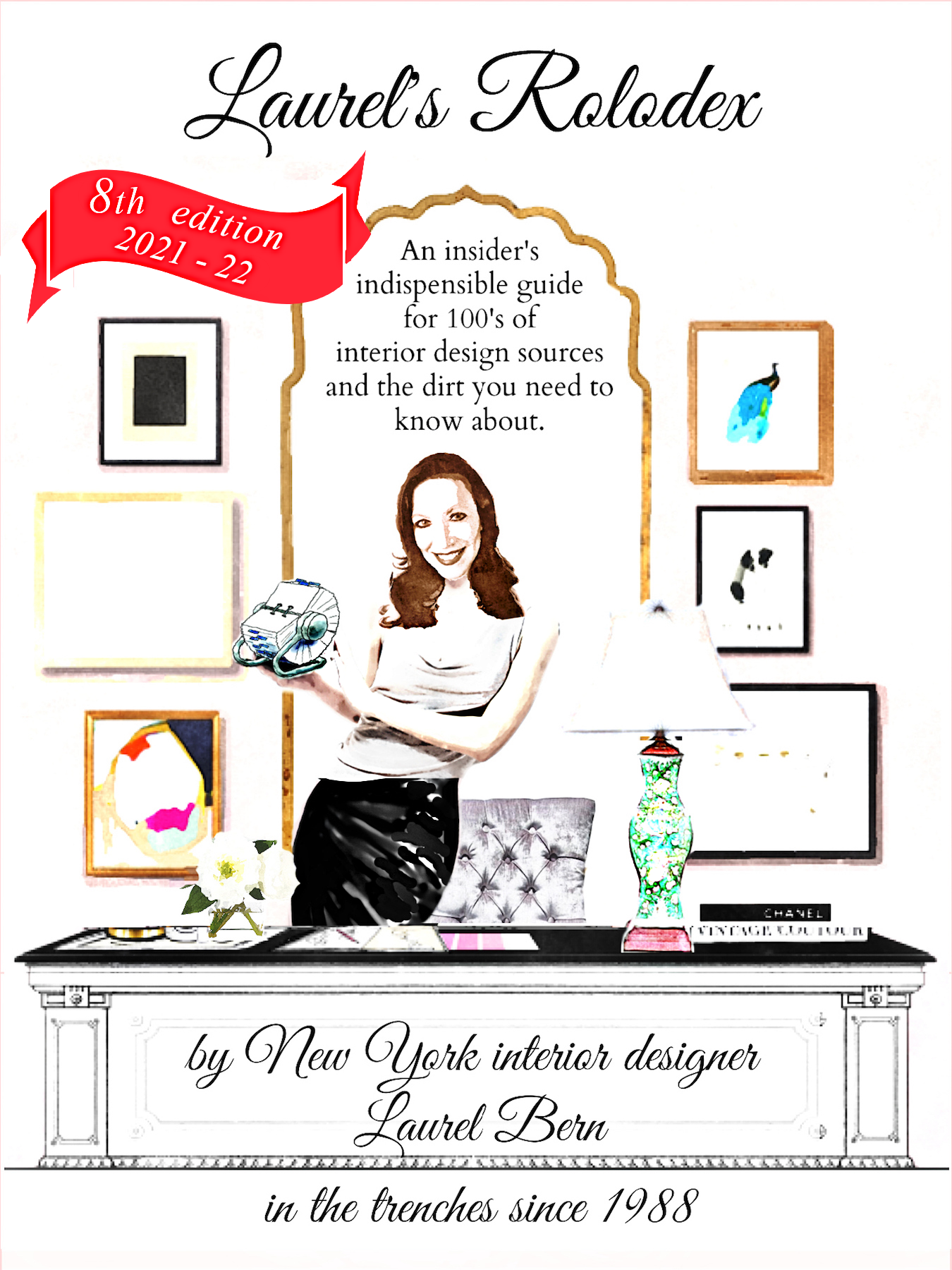 Related