If you own an interior design company, the biggest challenge you face is to keep up with clients' sky-high expectations.
"We love your ideas but we are not sure how this will look!"
How many times have you lost a client because of this argument? But now not anymore. Because augmented reality is here to exceed clients' expectations and boost your business.
Augmented reality interior design apps are popular among users. The 3D images are really good to help them visualize any interior design. Also, studies say that 17% of consumers in the US will use AR for shopping by 2022.
Therefore, we think it's time to provide you with detailed information on implementing augmented reality solutions for interior design.
Let's begin!
This Augmented Reality interior design guide covers the following topics:
What is Augmented Reality
Augmented reality is a thrilling way to see and interact with information about the world.
The word AR is hardly unheard of. But just for the sake of it, here's the most common definition of augmented reality – AR is an enhanced version of reality created by using technology. By placing virtual objects in the real world, in real-time, it turns the environment around you into a digital interface.
In 2016, Pokémon Go brought augmented reality to the masses; changing the way average customers think about this emerging technology. Today it's being increasingly used as a killer feature in various applications, and by multiple industries such as retail, healthcare, automotive, manufacturing, and more. Companies are using AR to promote products and services, launch marketing campaigns, and collect data.
The interior design industry is not far behind as evident from AR apps by design retailers like IKEA. So, there are plenty of opportunities for augmented reality in interior design. To know about this in detail, first, let's understand how AR works.
Augmented Reality in Interior Designing
It's story time.
Olivia and Mark walked out of Sam – the interior designer's office. They were annoyed and confused. The colors and floor-map that Sam suggested turned out to be a disaster.
They approached another home designing company in town. The company showed them a 3D version of the house on a screen. The couple could see what wall color will look best, what's the floor plan like, where to place the furniture, etc. This was possible because of augmented reality.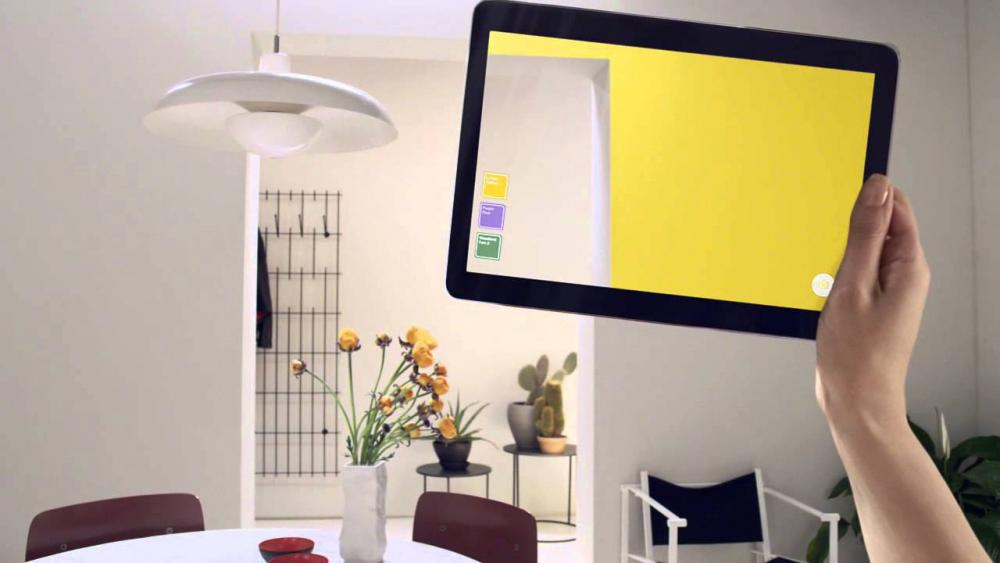 Now we will discuss how augmented reality is taking off in the interior design sector.
Let's begin with the first stage in building a house – construction and architecture. AR in architecture is all about placing 3D models of the proposed design onto a real space using mobile devices. Construction companies even use AR to replace digital drawings by engineers. This ultimately reduces errors and saves time and cost.
ARki is an augmented reality app that showcases architectural projects in AR. The app provides 3D models with different levels of interactivity and animation levels. It provides other functionalities including real-time shadow analysis, material selection, and more. Users can capture and record custom views of models in both movie and 3-D still format.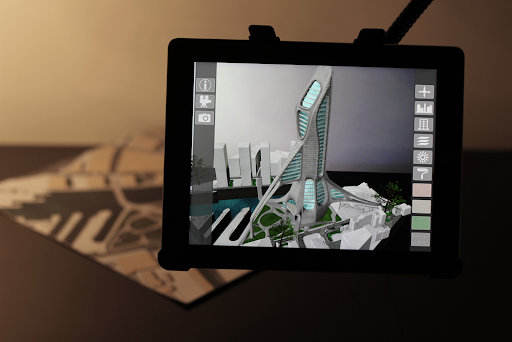 Benefits of Augmented Reality Home Design
Here are some ways your home design business is likely to benefit from creating augmented reality interior design app.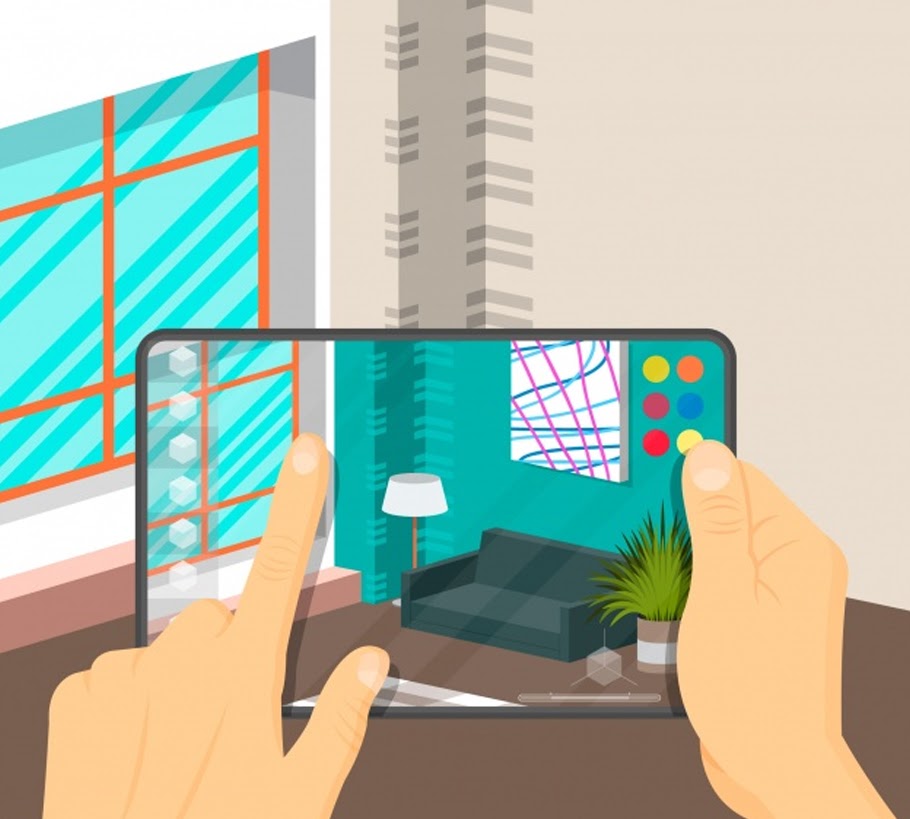 Better Visualization
Product Visualization is a vital tool that helps your customers during the designing process. This works two ways: visualization educates the customer, and improves the project satisfaction.
Our brain can process images faster than text and that's why customers retain more information via visualization. AR interior design will help them see what color combinations will look well in the room, or if they should get a circular table or a rectangle one.
This ability to help the client visualize the project before development will result in an increase in accuracy leading to client satisfaction.
Secondly, visualization will set you apart from competition. When a client compares your AR-enabled products to your competitors, they will surely be impressed.
Design Editing Abilities
Some clients are afraid to commit to a design plan because they have no clue how their home will turn out. This immersive technology not just provides them with an ability to visualize their space but even make changes. They can change the colors of the wall or move objects around. Secondly, AR in interior design improves guidance too – Using the interactive technology, your client can communicate even the minute design detail in the best possible way.
Looking for AR solutions for home design business? Let's assist you with that.
Augmented Reality Interior Design App Examples
We have picked top augmented reality home design apps in the market. From virtual consultation to 3D AR models, these use cases will inspire you!
1. Houzz
CNN once called it the "Wikipedia of interior and exterior design." It has a database of 20 million interior design photos, home decor, decorating ideas. As one of the best augmented reality home design apps, it has truly taken over augmented reality. Users can use View in My Room 3D mode to visualize the furniture or decor elements in the surrounding space with the help of AR. Other popular features include
Sketch function to annotate and draw on images
Ideabook to store ideas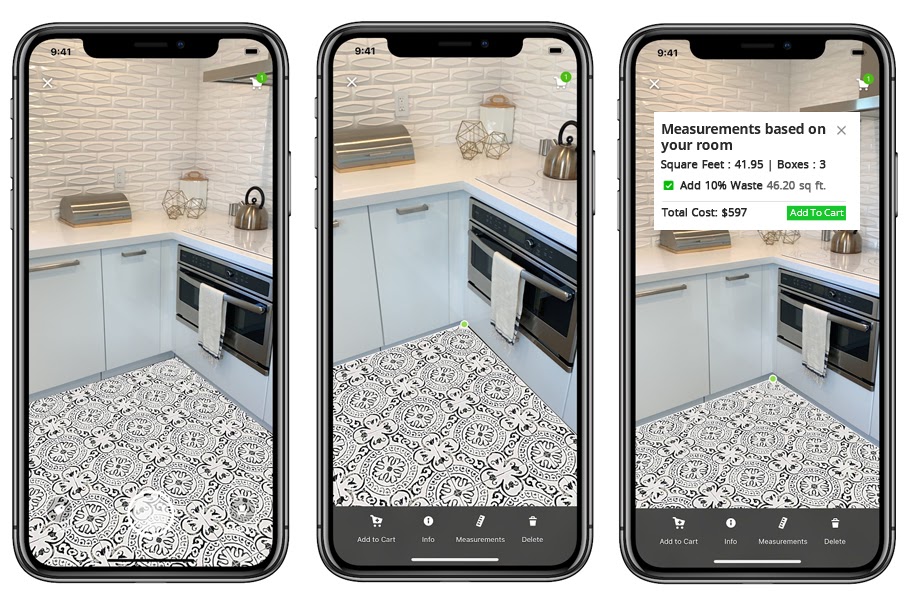 2. Ikea Place
This furniture giant's augmented reality app Ikea Place is probably the most popular AR app. Users can browse through over 2,000 IKEA products such as sofas, armchairs, coffee tables, etc. Once a user chooses a product, they must point the device to the desired spot, then drag and drop the product onto the space. The app also enables users to share their selections on social media.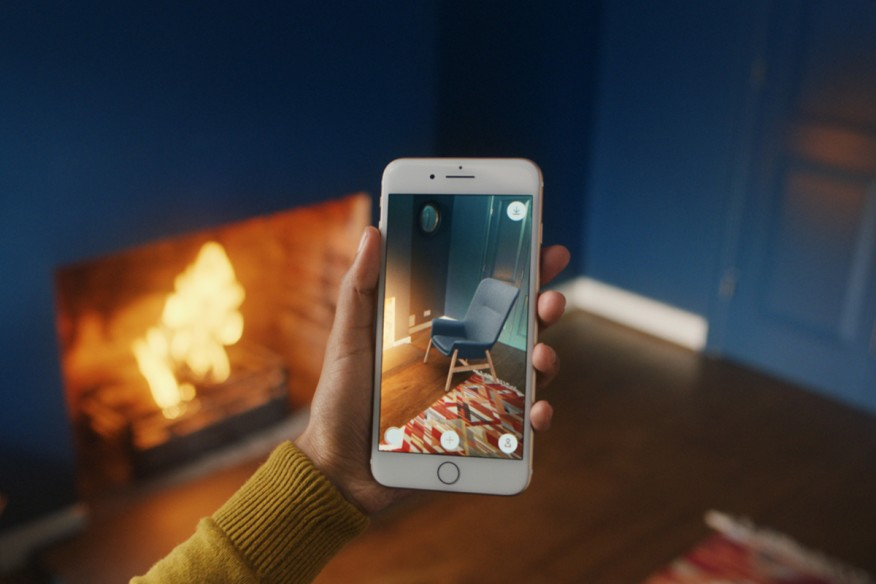 With this app, you can easily devise both interior or exterior design plans by dragging and dropping. This architectural app allows you to import floor plans and change the space, or raise ceilings. Further, you can add furniture and other amenities of your choice.
4. Homestyler
Homestyler was one of the first websites to provide accurate web floor planner. The company then created a mobile version with the use of advanced technologies. Homestyler AR app gives the ability to decorate the room by styling the walls, adding furniture and decor items.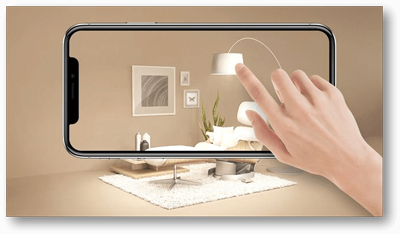 5. Measure
This augmented reality home design app turns your smartphone into a measure tape. You can check the size of objects, change dimensions, and save the photo of the measurement information for further use.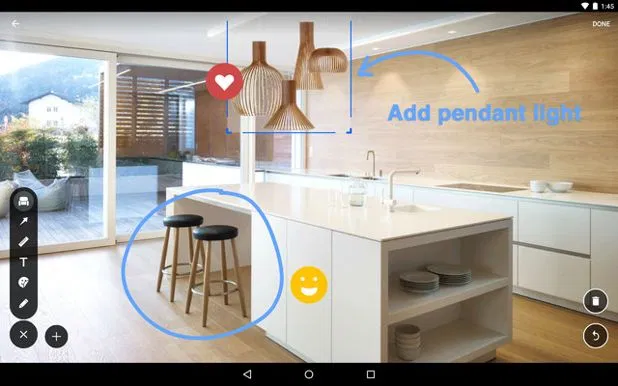 Features to Include in Augmented Reality Interior Design Application
If you want to build an augmented reality interior design app then these are the features you must consider.
Product Catalog
What makes your business successful is your ability to sell products quickly, and efficiently. And a catalog feature displaying the products and price helps you with that. Your augmented reality interior design app needs an extensive product catalog with stunning visuals – a catalog where users can browse products and try them with augmented reality.
For a better user experience, you can categorize products by intended usage such as kitchen, living room, and by type such as floor design, wall texture. Furthermore, you can allow users to zoom in or flip the products as well. This brings us to discussing object manipulation. In your AR interior design app, you can't just post simple images. You need to create 3D models. These models should be of real-life size in a way that users can place it in the real environment.
Search Functionality
Scrolling through the entire catalog is not convenient. Therefore, you need search functionality that allows users to find a specific item. Here are some best practices to enhance the search feature:
Filters – Filters are an important aspect of the search functionality. Users must be able to filter the catalog items by price, color, dimensions, etc.
Voice Search – The convenience that a voice search brings as compared to a text search is one of the biggest reasons why more and more businesses are incorporating voice search in app development. Make sure your AR interior design app offers this technology to provide users with fast and efficient results.
Ideabook & Guide Feature
An idea book is similar to a board that you find on Pinterest. It is a digital equivalent of a notebook where the user can save home design related ideas. The ideabook is a popular feature of the Houzz app. The feature allows users to save ideas such as favorite home design photos, stories, profiles of home service professionals, products, and other details of the project.
Make sure your augmented reality interior design app offers a guide that helps users with the process of designing. These guides must cover everything from suggestions, tips and tricks by professionals to DIY bookshelf styling solutions. Houzz guide, for instance, includes articles on how to start the project, how much the project might cost.
Payment Integration
Statista reports that by 2022, the transaction value of mobile payment apps will reach nearly $14 trillion. In your AR interior design app, you will need to integrate payment gateways via SDK. The top three popular payment processors that provide SDK for mobile app integration are PayPal, Stripe, and Braintree.
Typical Features of AR Interior Design App
Register: The user can log in to the app either using a personal mail id or through social media account.
Create Profile: Allow users to create a profile by adding basic details like name, address, social media account, categories (exterior decor, interior decor, living room, kitchen, etc.)
View in Room: This is a must-have feature which allows users to virtually place any object on the wall or in the room.
Reviews & Ratings: An essential feature that will enable clients to rate your service. Reviews also help potential clients when finalizing the contract.
Gallery: Users can view the gallery to pick the best design.
In-app Chat: With this feature, the users can communicate with you and ask queries while they are browsing through your product catalog.
Wondering what features you could include in your app? Let's help you make a choice.
Challenges in Augmented Reality App Development
Let's find out what are some challenges you are likely to face when building an augmented reality design app.
Limited Hardware Capabilities
You can run an AR app on any device. But can it function the way you expect? Maybe not. No doubt tablets and smartphones are becoming swifter but they have different capabilities. Not every AR experience is accessible on any device. For instance, a smartphone can capture 2D images but it might not be suitable for creating a 3D hybrid reality. But luckily, we have AR devices like Hololens, Meta 2, Google Glass, etc. to solve this issue in some devices. 2D barcodes and QR codes can even help enhance visual augmented reality content.
Another potential problem is the accuracy of GPS sensors. Inaccurate sensors can lead to errors in information display. A viable option to overcome this challenge is to ensure that the AR marker objects are big.
Software challenges
Augmented reality solutions like Apple's ARKit and Google's ARCore have emerged only recently. While they are capable of enhancing the development process, it is too early to declare them as the most reliable solutions. We are also seeing a rise in new toolkits by different devices. In such a case, the biggest challenge you face is to adapt to the kits recently launched. Until you master different features of every kit, all you can do is create AR apps for a single platform. Another challenge you might encounter is a difficulty in integrating social media with the AR app. The main reason is because the technology is in the initial stages and therefore, you might need help from experts when building an AR interior design app.
How Much Does It Cost to Build an AR Interior Design App?
The cost for building an augmented reality interior design app depends on various factors such as:
The mobile app development company
Android and iOS app developers
QA testers
Backend developers
Front end developers
Business analyst
Project manager and many more
Furthermore, the cost varies from the features and functionalities you need in your app. Contact us to get a detailed estimation.
Here, at Biztech, we aim to craft and deliver interactive customer experiences that help you drive sales and increase brand loyalty. Our app development process typically includes 4 steps:
Requirement Analysis & Design

After identifying our needs with every single detail and performing extensive analysis, we finalize the overall flow of the app with you and prepare the initial stage design.

Development Phase

After the skeleton is ready, our team works on your app with advanced coding techniques.

Quality Assurance

After we finish the development, the QA team comes to the picture for automated testing to ensure your app is without any glitches.

On-time Delivery

If there are any recommendations by the QA team, our developers will work on it and only then we deliver the app to you on a pre-defined date.
A Way Ahead
No matter how powerful a smart device is, sometimes it lacks the true immersive experience that you need to finalize the deal. For a client who needs a spot-on result, 3D images on the phone screen might not seem convincing enough. Here comes the role of AR headsets or glasses. Because of its ability to improve immersion, it has become an essential tool for interior designing professionals.
It's also true that people are reluctant to wear these headsets. But if you can overcome this challenge then you can provide more fast and reliable solutions.
For most buyers, augmented reality makes the process of home designing more accessible and realistic. Therefore, as an interior designer, being able to give 3D and visualizing solutions is of great importance. The 3D models give you the power to avoid costly mistakes and misunderstandings with your clients. The union of augmented reality and interior design has the potential to change your business.
We can help you build an augmented reality interior design from scratch. Not just that, our marketing team can also assist you in forming a strategy to promote your business.